Reasons to raise your glass
Regain the freedom of getting what you want — with essential drinks always included, alcoholic bevs at exceptional value, and all tips on us.
The enticing bars that'll host all your toasts.
We've partnered with some of the industry's most esteemed mixologists and bartending whizzes to create an unrivaled beverage program built on what matters most: top-quality drinks crafted with the very best ingredients for a price that's actually worth it.
And we're thrilled to say that we won Best Nightlife at both the US and the UK's Cruise Critic Editors' Picks Awards, earned the US News & World Report's Best Cruise Line for Money Gold Badge, and Diageo World Class Cruise Bartender of the Year as a result.
Cocktail Bar
On the Rocks
Focused on aged spirits poured over ice, On the Rocks is the perfect place to make bold choices. Kick-starting the evening with live musical performances, dare to add a twist to your favorite cocktail, stir it up while trying a different flavor, or challenge our mixologists to shake things up and round out the night with a spirited masterpiece crafted on the spot, just for you.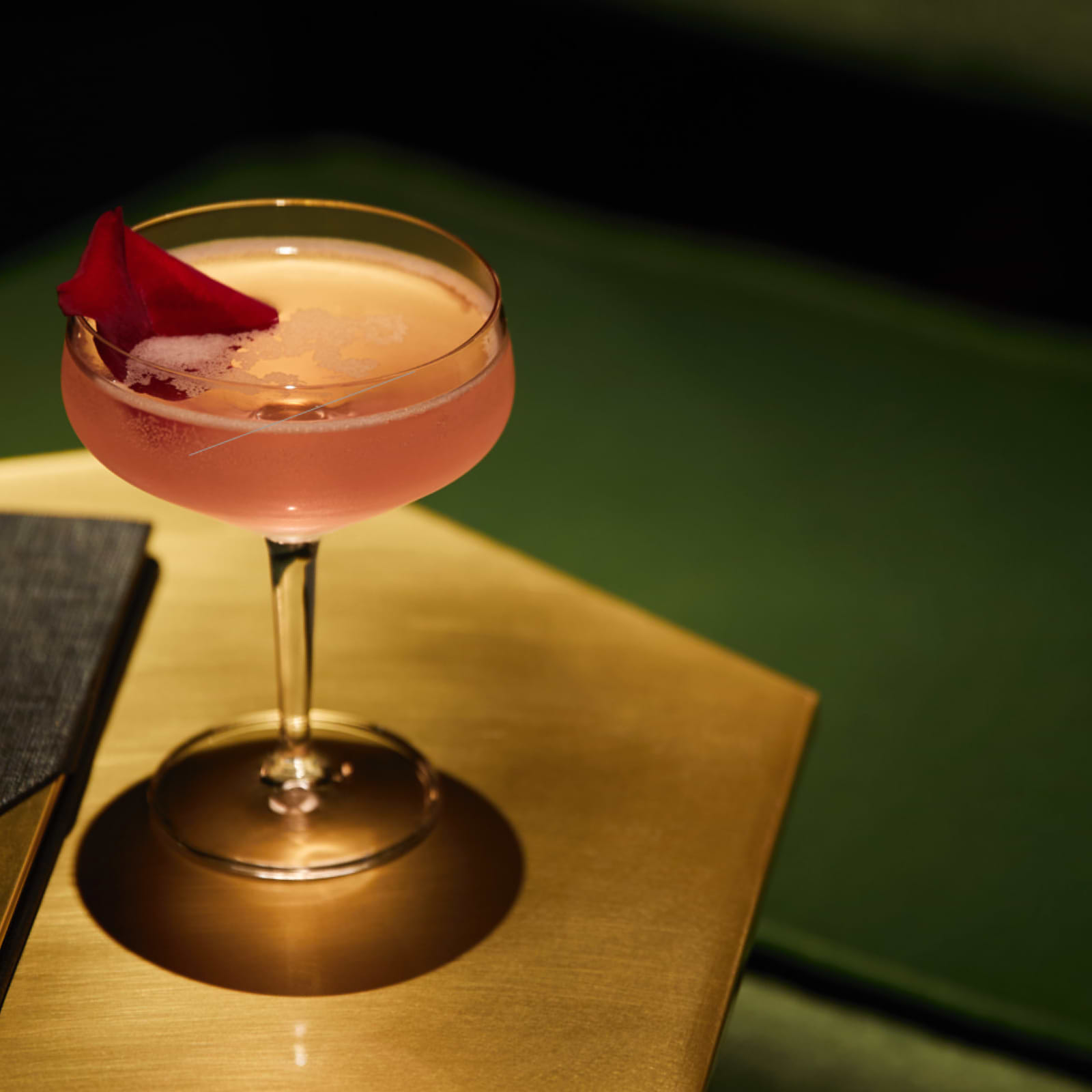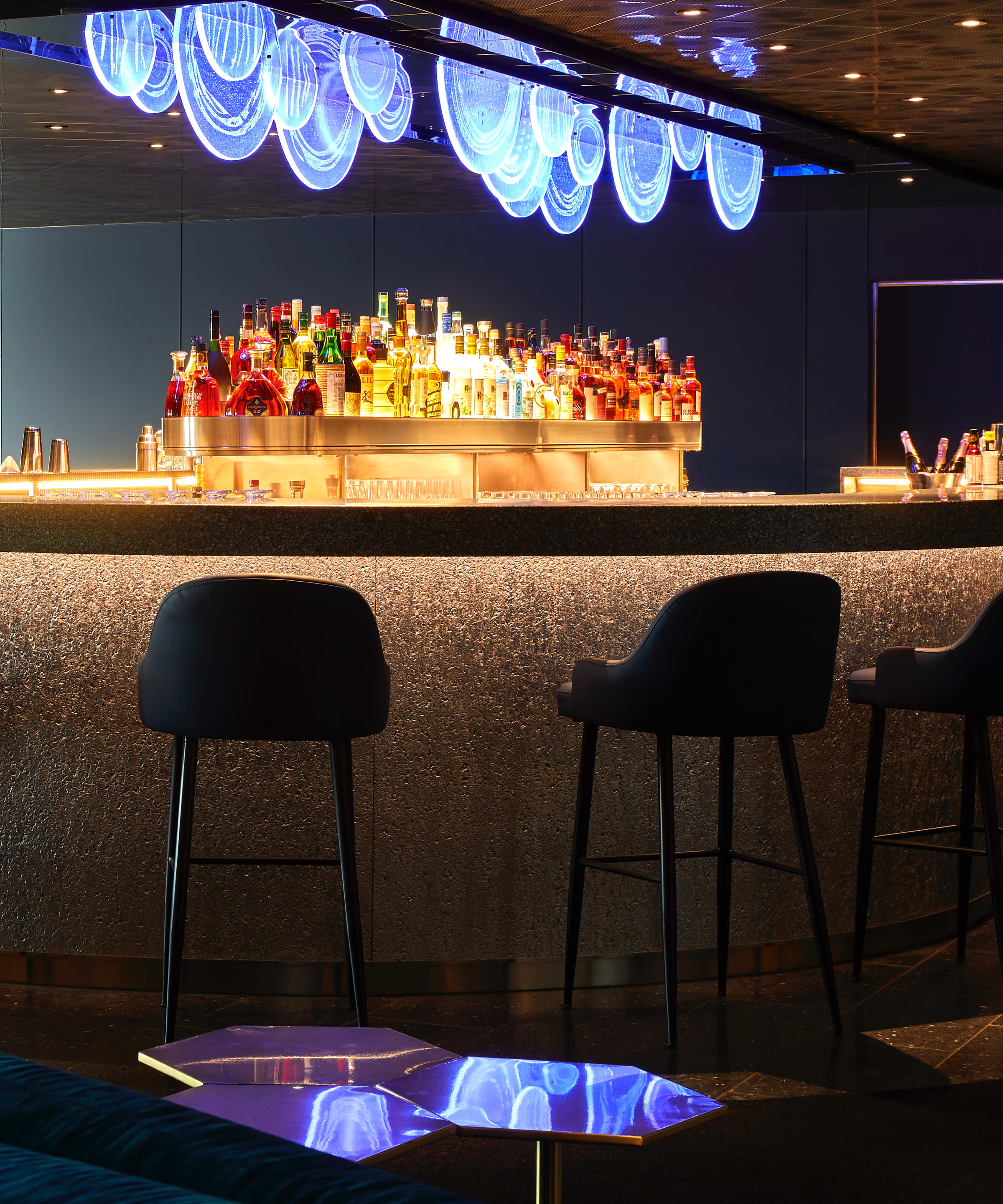 Whether you're craving a posh early breakfast, an indulgent high tea in the afternoon, or an effervescent nightcap to enjoy while gazing at the moon, our curated champagne lounge was specially designed to satisfy all your bubbles, caviar, and other glamorous needs.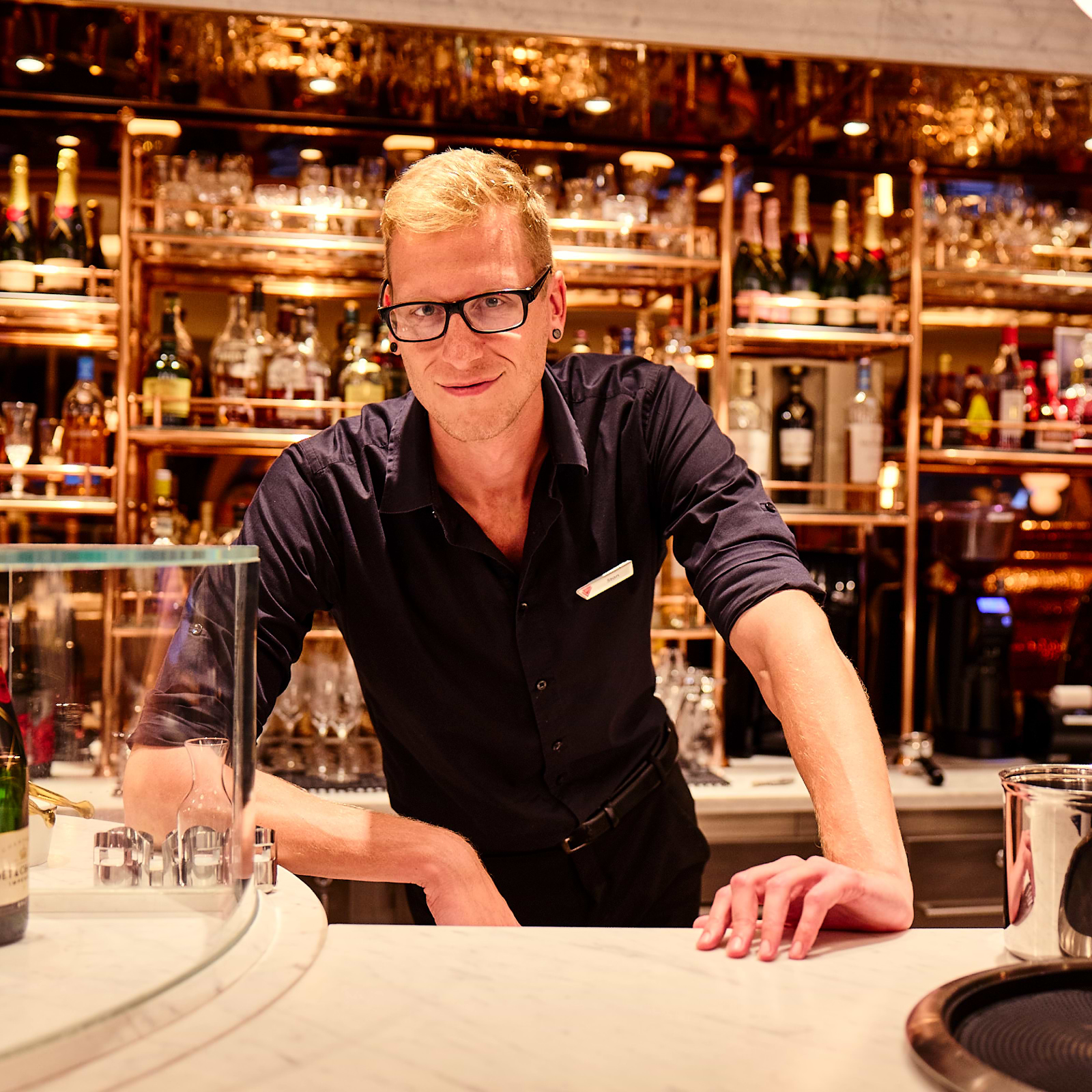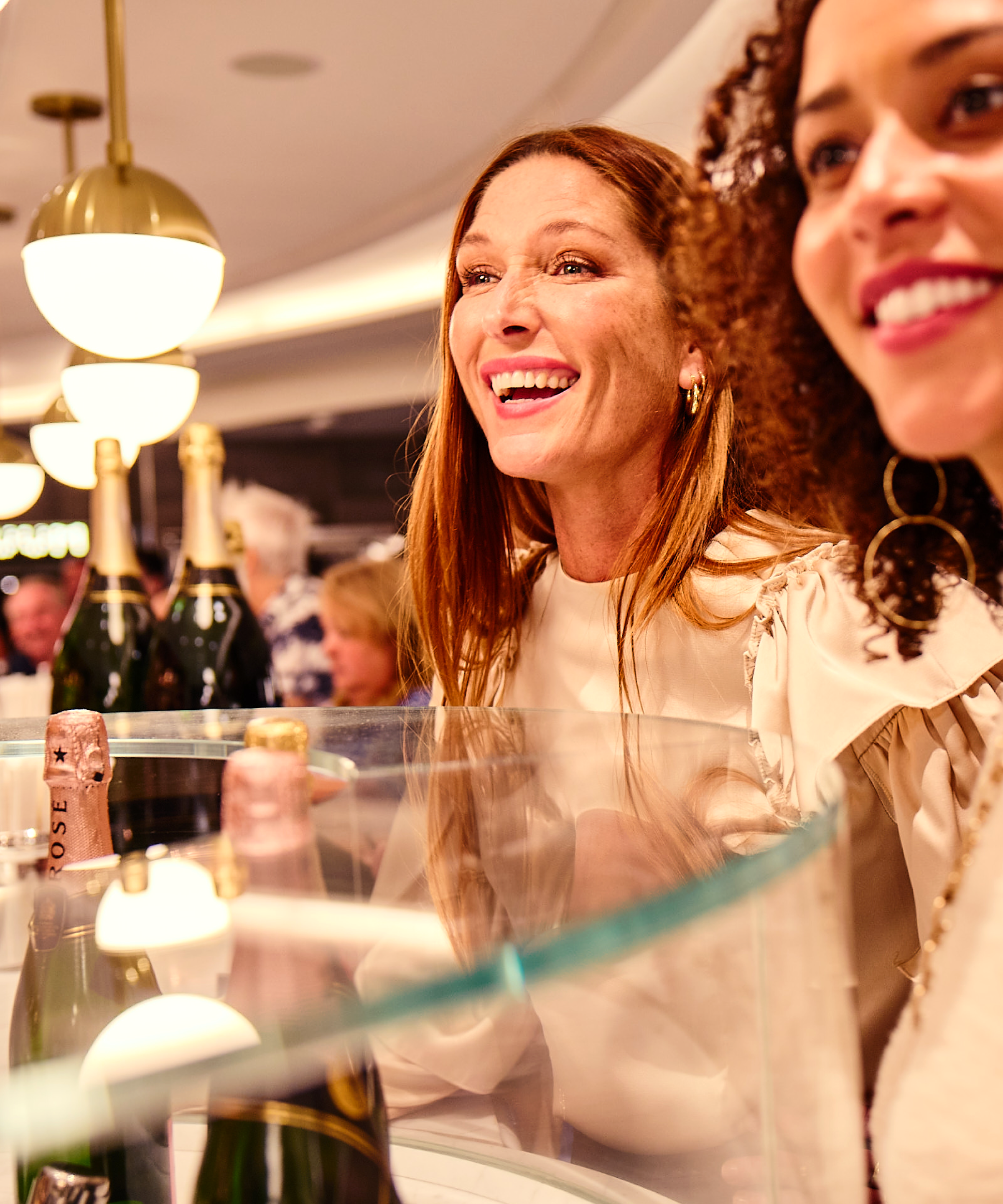 Pool Bar
The Aquatic Club
Vacation is somewhat incomplete without a frozen drink by the pool. So stay hydrated as you soak up some vitamin D, and drink in the views with a cold mojito in hand. Or a vodka punch. Or a mocktail with an umbrella in it. Whatever your libation style, we've got a full bar right by the pool so that you're never too far from the hottest parties.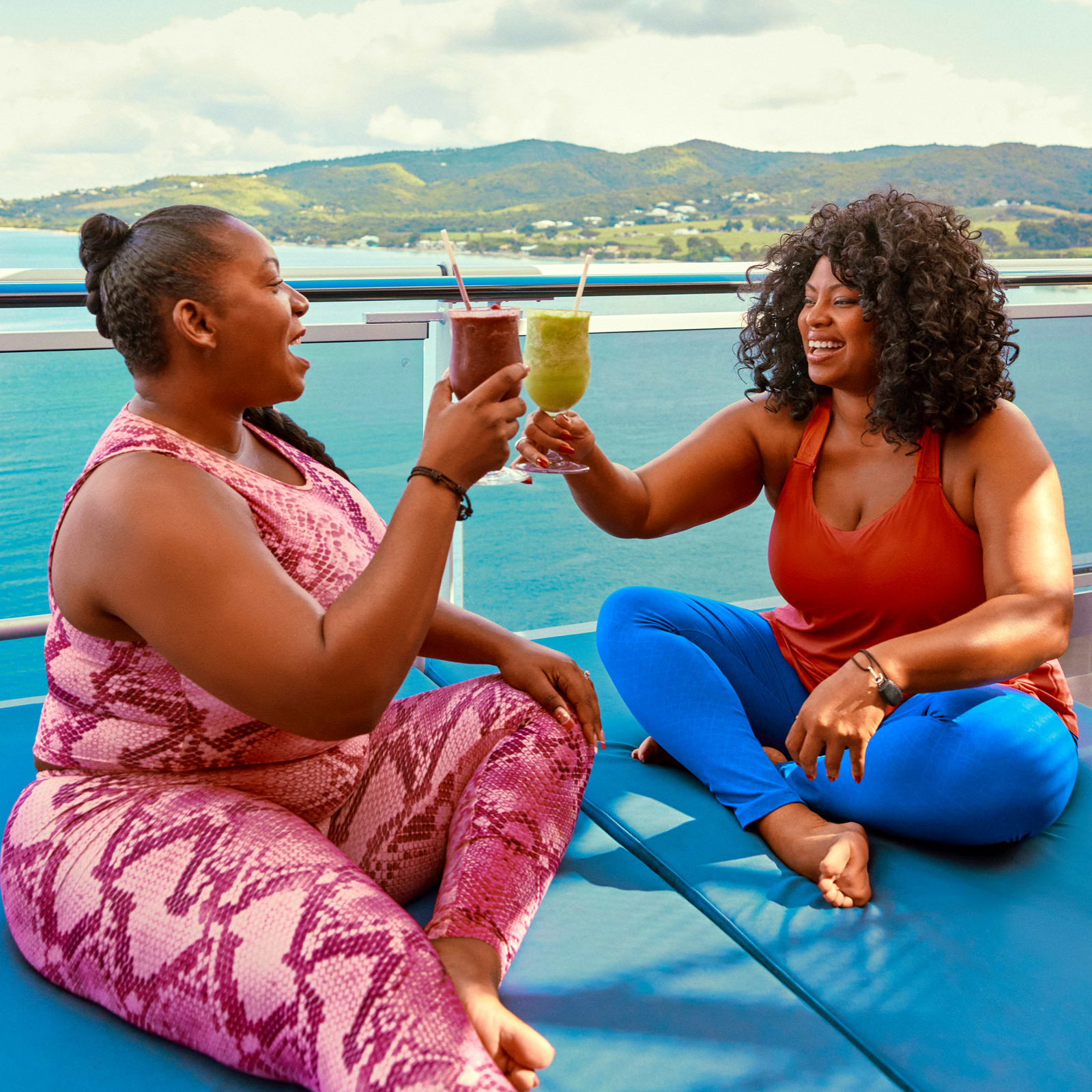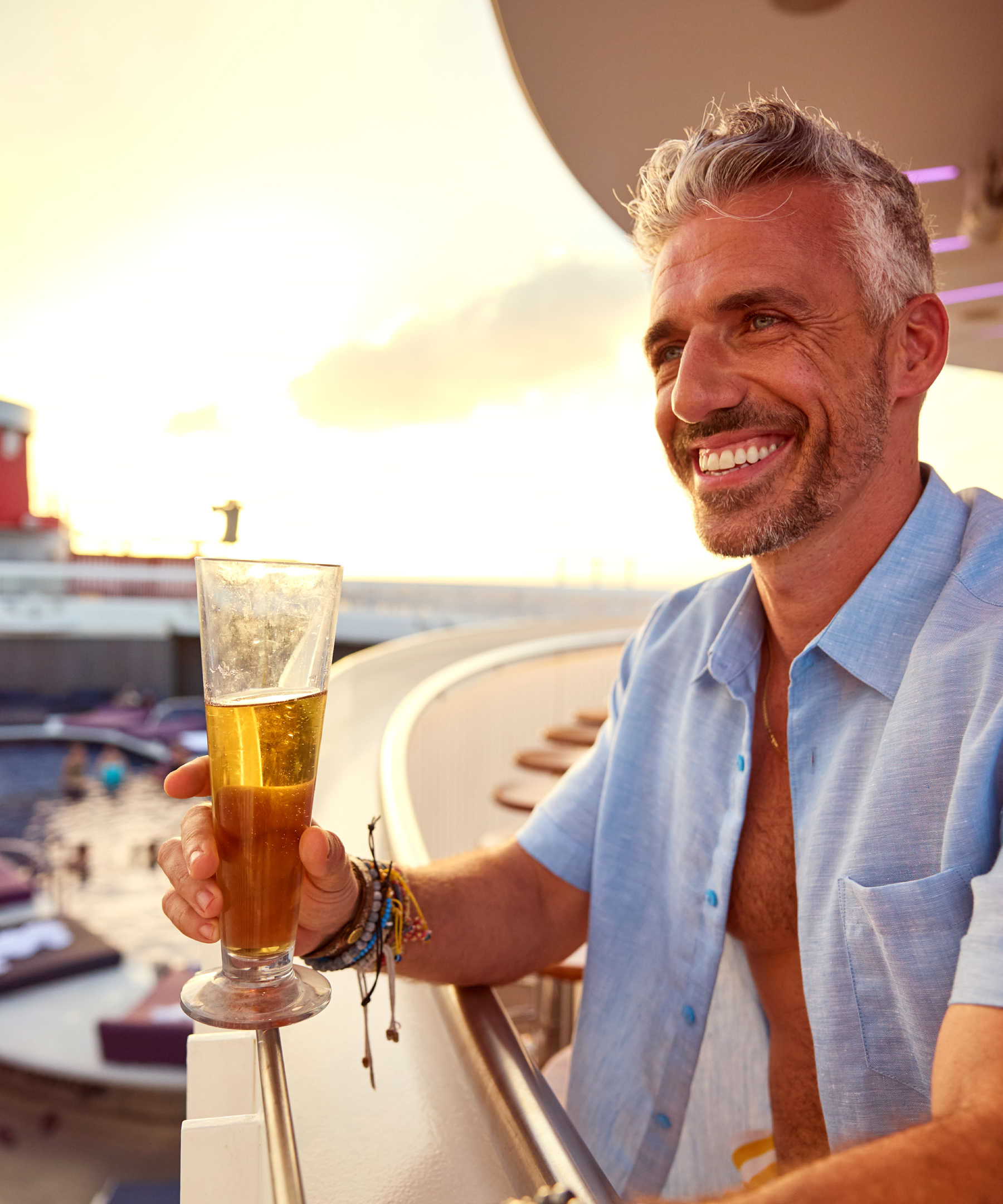 Blurring the boundaries between indoor and outdoor lounging, The Dock is the ultimate space for unwinding. Offering an alfresco-chic lounge-side service, its menu is focused on light and refreshing drinks and enticing bites to share. Drink in the Mediterranean flair with craft cocktails made with orange blossom, rose water, or pomegranate — they pair perfectly with the sweeping ocean views, fiery sunsets, and starry nights you'll see from one of The Dock's daybeds.
Mezze Lounge & Bar
The Dock House
An effortlessly elegant yet casual counterpart to the view-focused scene outside, the Dock House is *the* place to go for some healthy indulgence or a sparkly delight. With a fine selection of spritzers, detox mocktails, and Mediterranean-inspired drinks, it offers bright flavors that are anything but laid-back and live acoustic sounds that add up to the cozy atmosphere. The star of the show is our premium rosé program, specially curated to quench your thirst while rounding out each taste.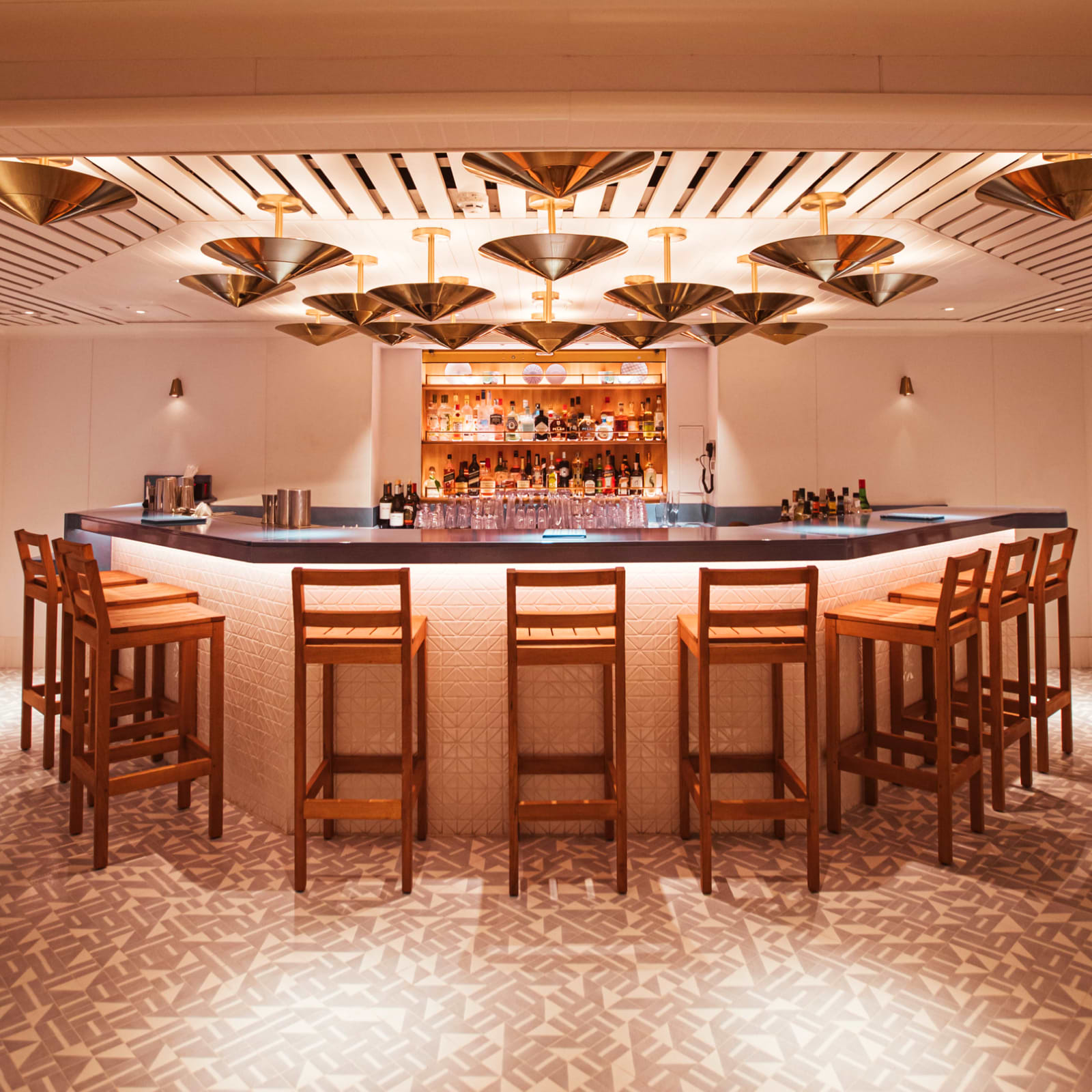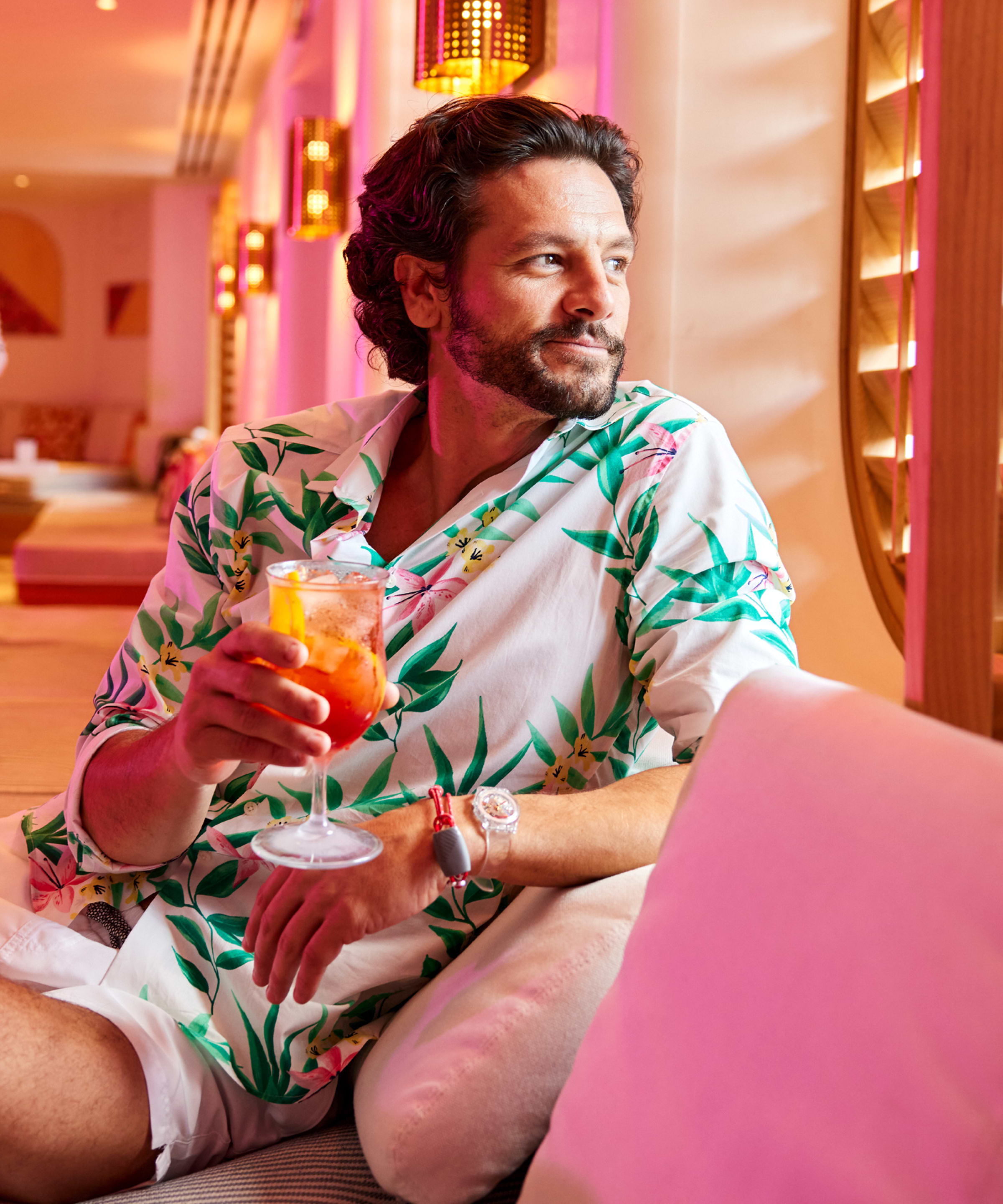 So many options…
And there's (a lot) more
Every single one of our bars has been specially designed to offer a one-of-a-kind experience. Whether you're exploring indoors or hanging outside, you're always one step closer to finding another fabulous spot — and your next new-favorite drink.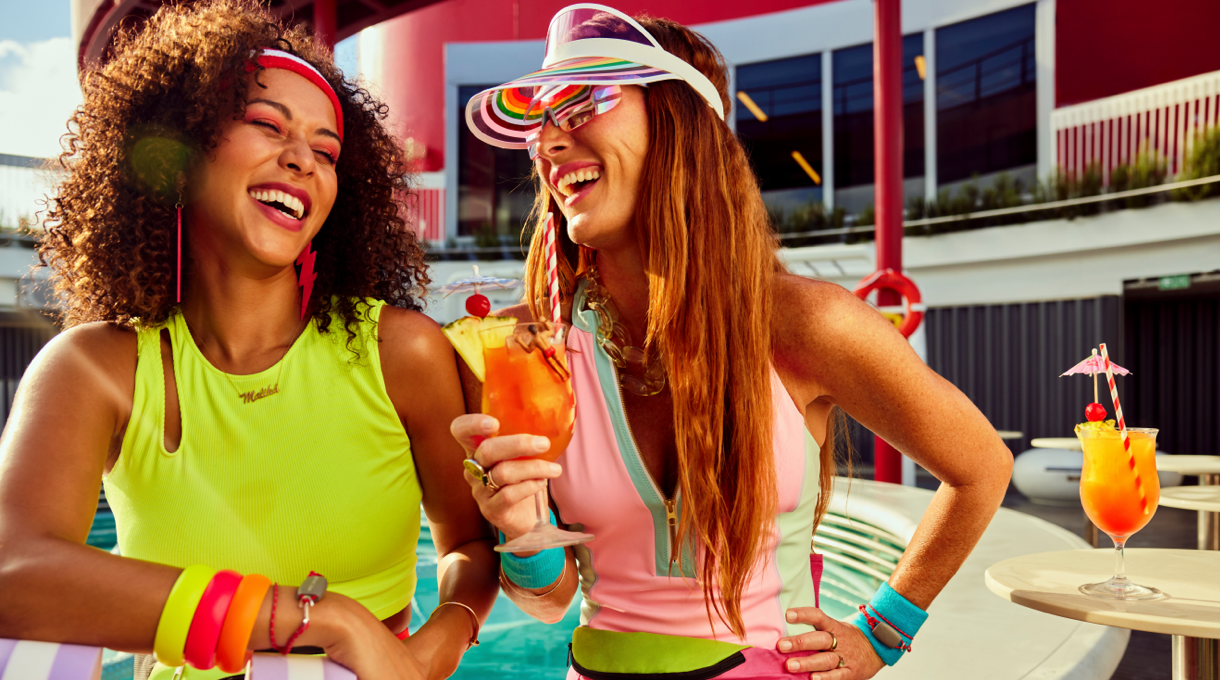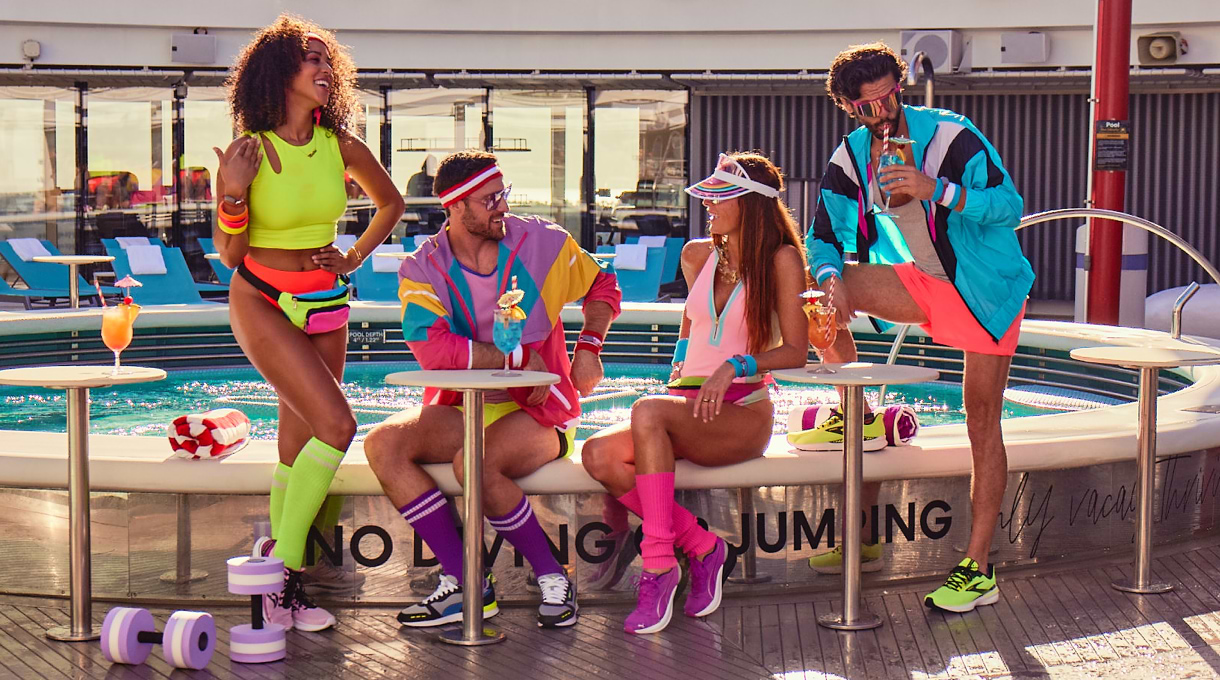 Gym & Tonic
An open deck oasis bringing together everything Vitamin Sea stands for, Gym & Tonic offers fresh and cold-pressed juices, made-to-order shakes, and stirring Reset Cocktails that are healthy in spirit (like, by putting the spirit in healthy). Whether after working up a sweat or while relaxing at the Well-being Pool, there's no better way to thank yourself for taking care of your mind, body, and soul with a toast. So embrace our detox-retox philosophy and cheers!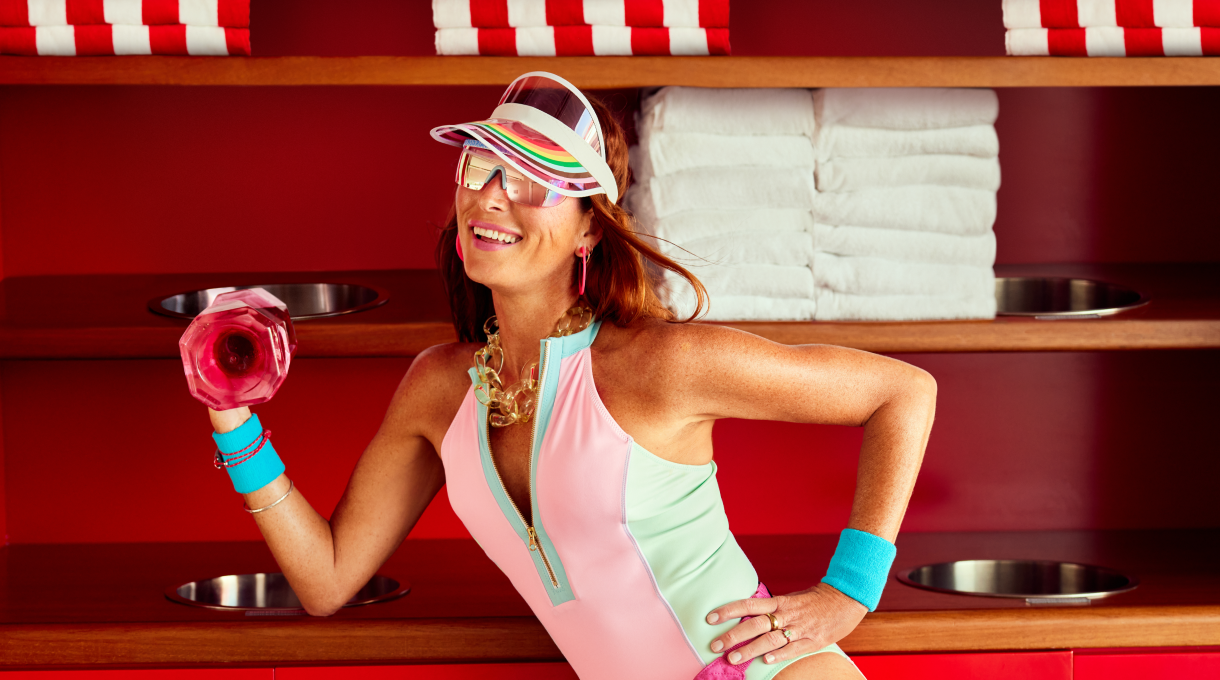 Athletic Club Bar
Whether you're looking for the right spot to refuel after a workout sesh or to bask in sweeping ocean views with an ice-cold beer in hand, the Athletic Club Bar offers everything from restoring ginger shots to cold-pressed juices and low-ABV cocktails that will make you fall in love. A sporty bar right in the heart of the (social) action, it's just steps away from the active training zone, boxing ring, basketball court, and oversized deck games, so every sip comes with a side of lively ambiance.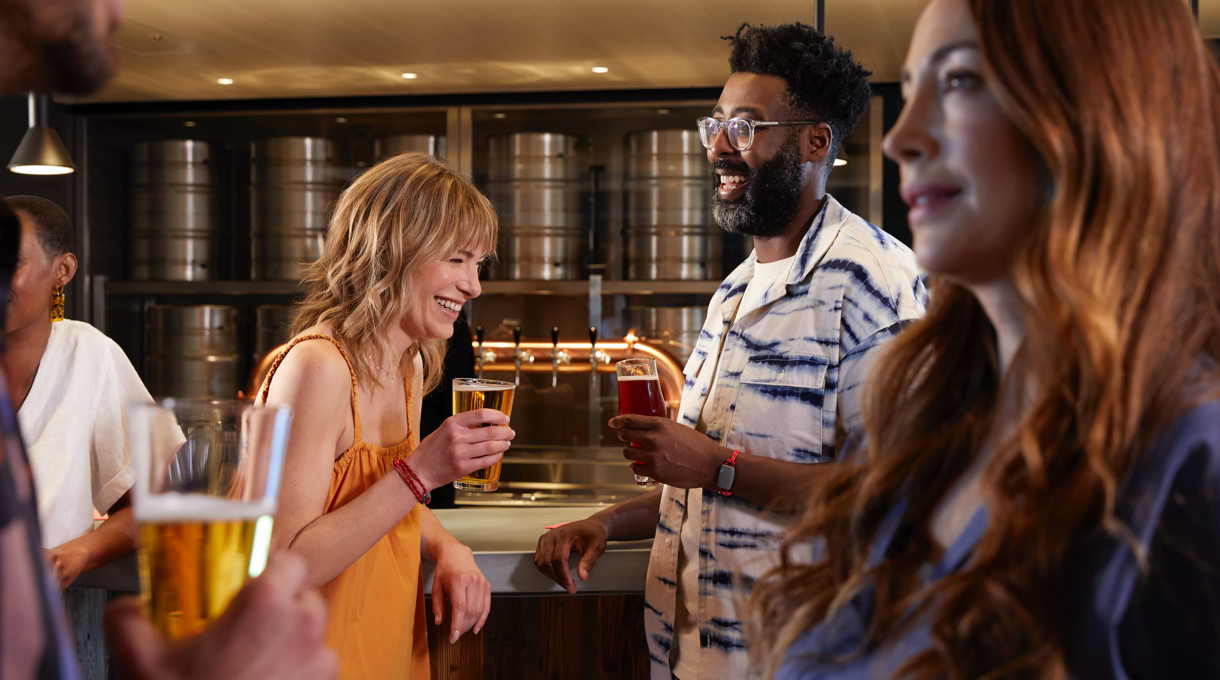 Draught Haus
Casual yet discerning beer-connoisseur-approved, our stylish Draught Haus features a variety of beers on tap, a wide range of artisanal bottles, boiler makers, and shot cocktails. Sip on artisanal brews while drinking in endless ocean views from a cozy window seat, stop for one of our "All Day Breakfast" shots before heading out, or just grab a growler and bring your expertly curated craft beer with you.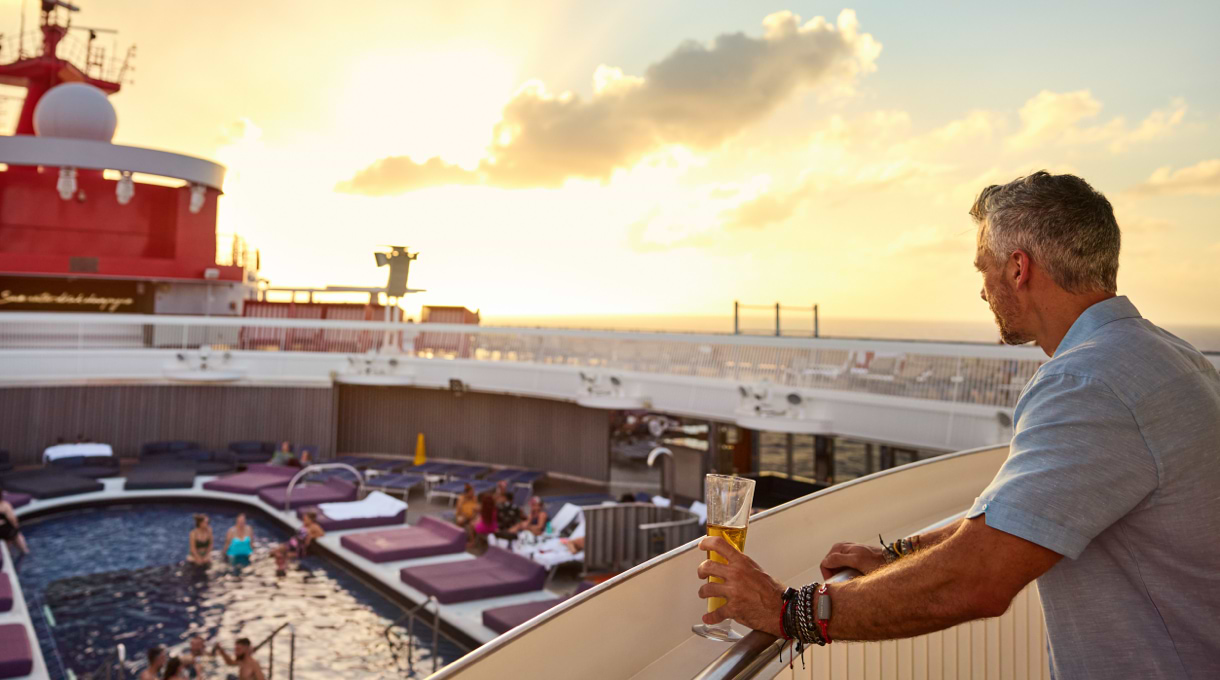 Sun Club
Located on our sun deck right above the pool (because any pool area worth its sea salt should have more than one bar), the Sun Club is the go-to spot to grab a frozen drink, sip on a tropical cocktail, and post up for optimal sun-soaking during the day, and people-watching during our iconic nighttime pool parties.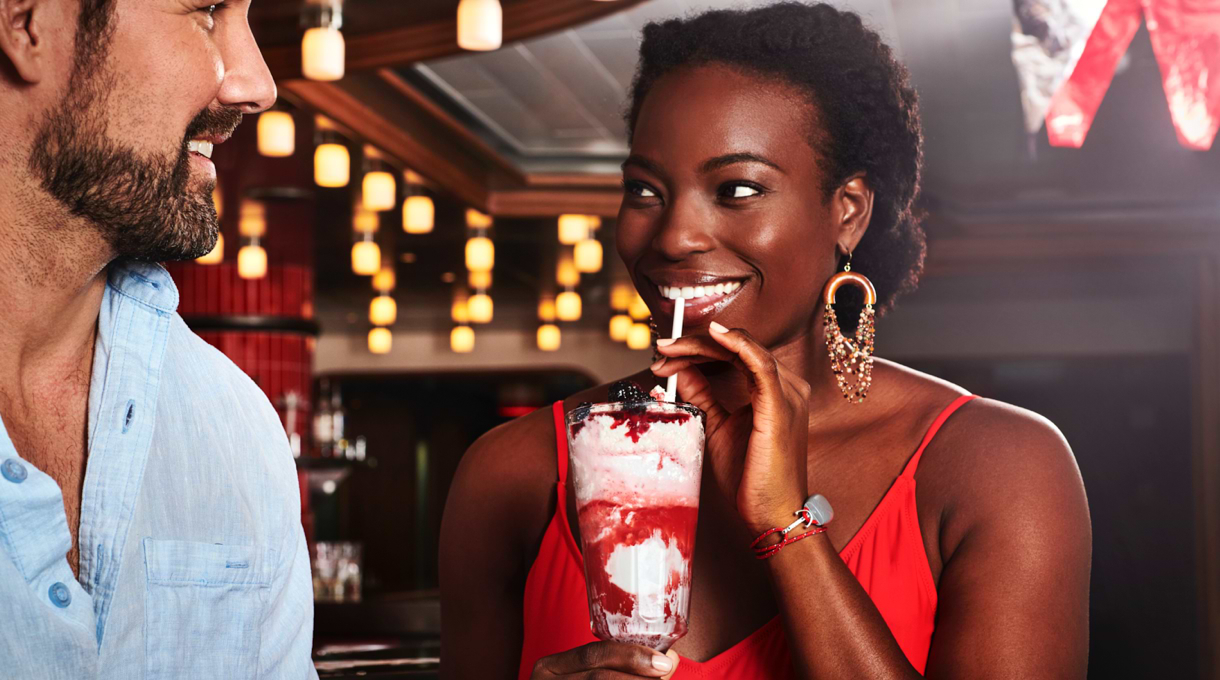 The Social Club Diner & Bar
The Social Club is an ode to carnival classics both in fare and in spirit. From fairground staples like pretzels and hotdogs to modern takes on milkshakes and floats (which can be spiked with a lil booze for an adult-friendly upgrade), our signature drinks and treats are just as photogenic as they are stacked high with cookies, frosting, and candy. But we don't call it "social" for nothing — this dinner is perfect for playing a good game of air hockey, shuffleboard, foosball, and more.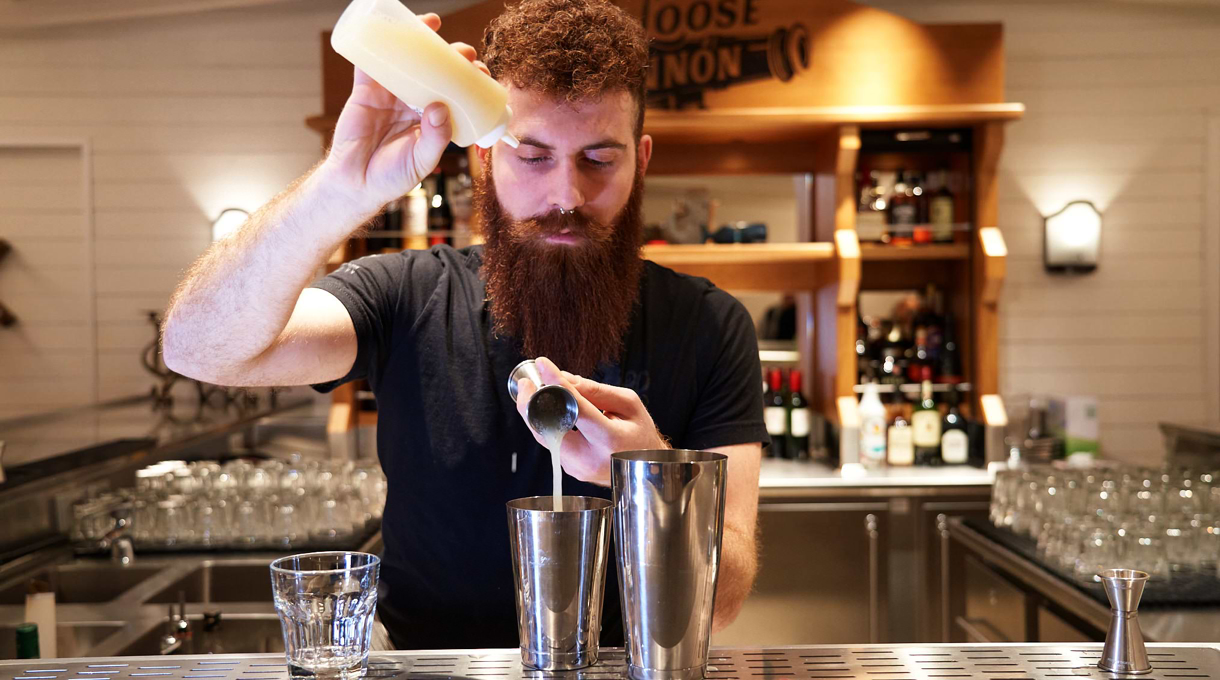 The Loose Cannon
Inspired by seaside bars in Brighton, UK, The Loose Cannon is a nautically-themed dive bar boasting lively music and animated processions with equally spirited bar keeps ready to ignite a heart chant at a moment's notice. With uncharted trivia nights, a real cannon to kick off the festivities, and a signature drink menu featuring hits like El Capitano's Gun Powder and the mischievous Shoctopus, The Loose Cannon is one of those places to go for the drinks and stay for the fun.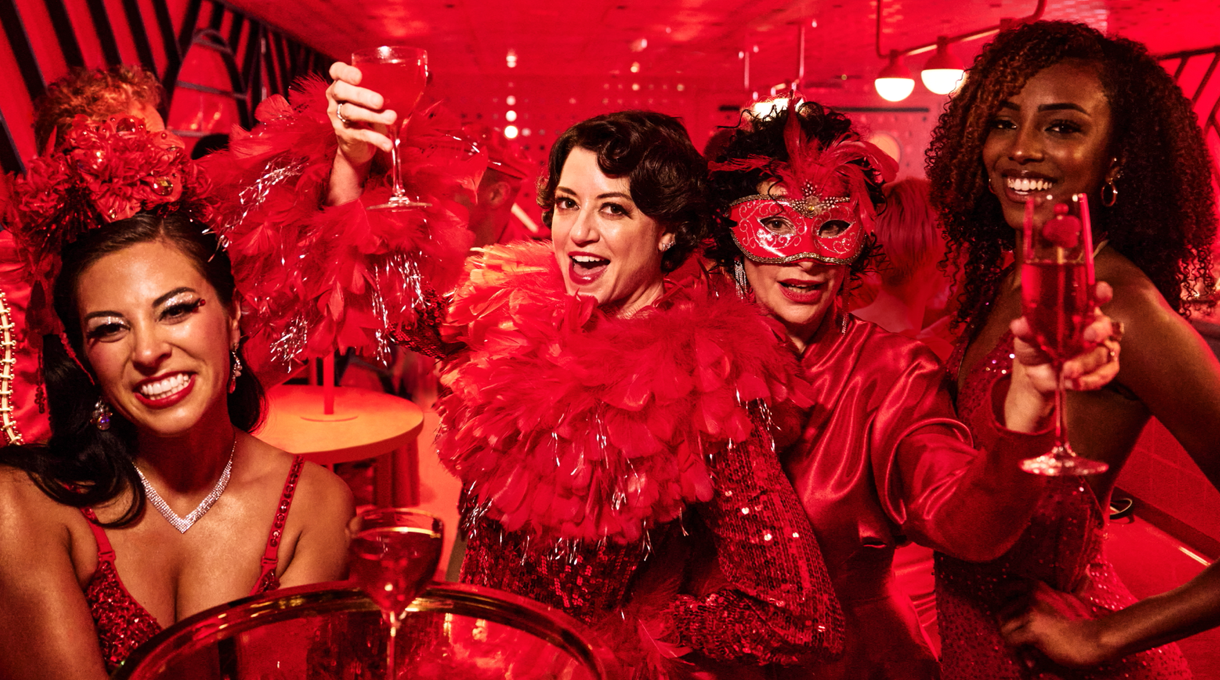 The Red Bar
Tucked in the back of Razzle Dazzle, the Red Bar offers as much flair as its parent eatery. With a signature drink menu featuring bottomless drag-inspired bevvies like the glittery champagne-based "YAAASSS Queen," some of the most Instagram-worthy blends ever seen (you can't miss the popcorn old-fashioned), and beloved concoctions with a new spin, The Red Bar's cocktail program is definitely one to raise your spirits.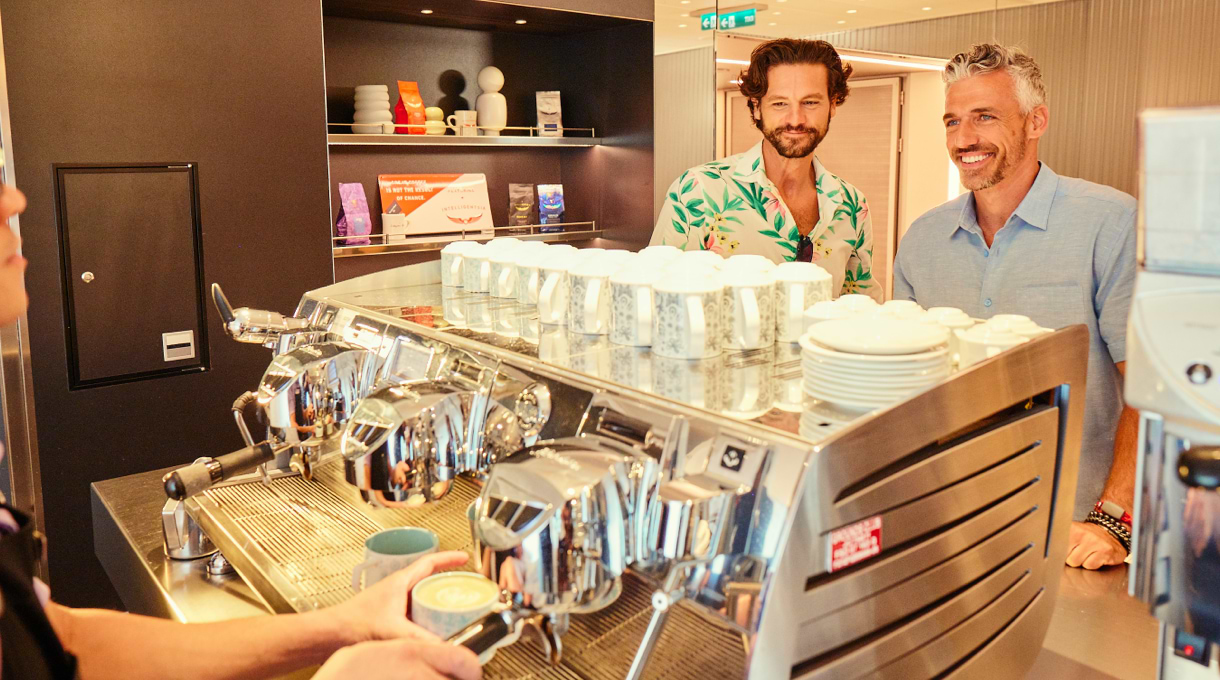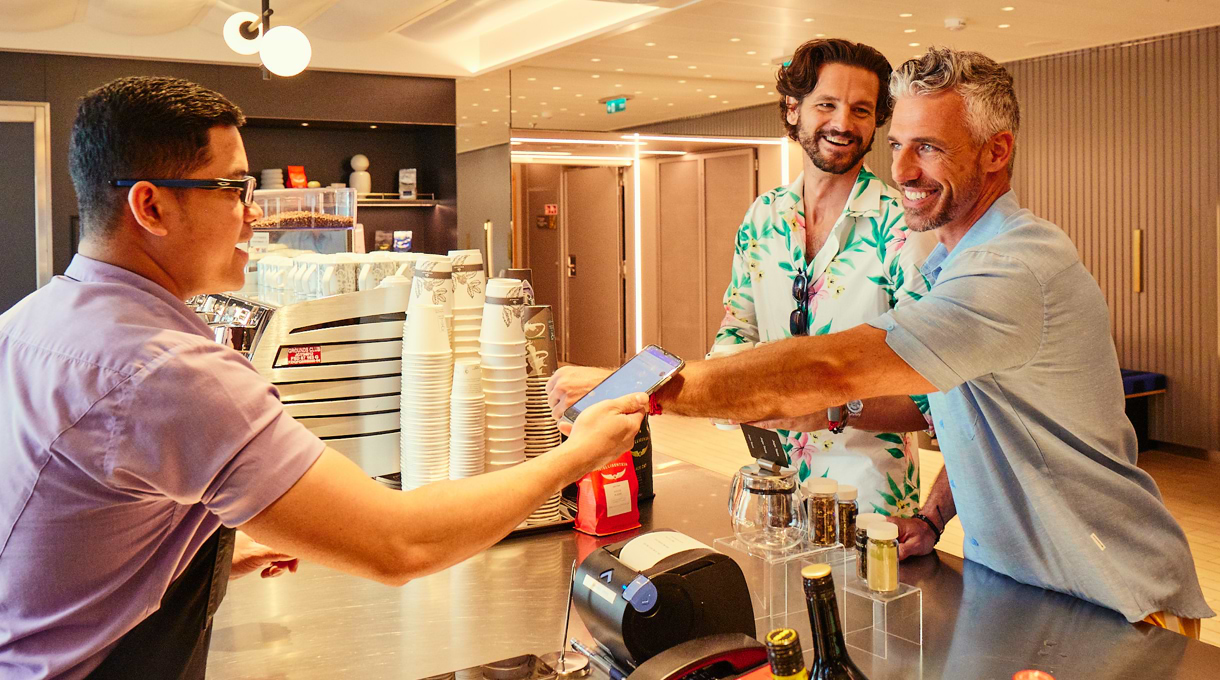 The Grounds Club
It's early. You're still a bit blurry, and coffee is the only thing you can focus on right now. Luckily, the Barista on board is pouring a Double Shot Almond Milk Latte in the most satisfying way you've ever seen, and this is exactly what you can't start your day without. And when the fresh flavors of Intelligentsia's direct-trade coffee explode in your mouth, you'll know that The Grounds Club is just like your favorite coffee shop at home… but with the very best brews and unrivaled ocean views.
A bar lineup like no other
While our Crew keeps the energy, cocktails, and good times flowing — we'll hand the mic over to our Sailors. They'll tell you everything (and more!)
Cheers to fair pricing
We heard you, Sailor. No restrictive drink packages with unreasonable rules here — just good value for all.
Beverage selections and pricing are subject to change based on ship locations.
Bar Tab Bonus
It pays to prepay
Like our martinis, we like to shake things up whenever we create elevated experiences for you — and our Bar Tab is a nod to that. To add an extra shot of opportunity to the exceptional quality and fair value you'll always find on board, we're topping off every $300 Bar Tab pre-purchased with $50 in onboard credit for you to have a few extra rounds on us during your voyage. Cheers!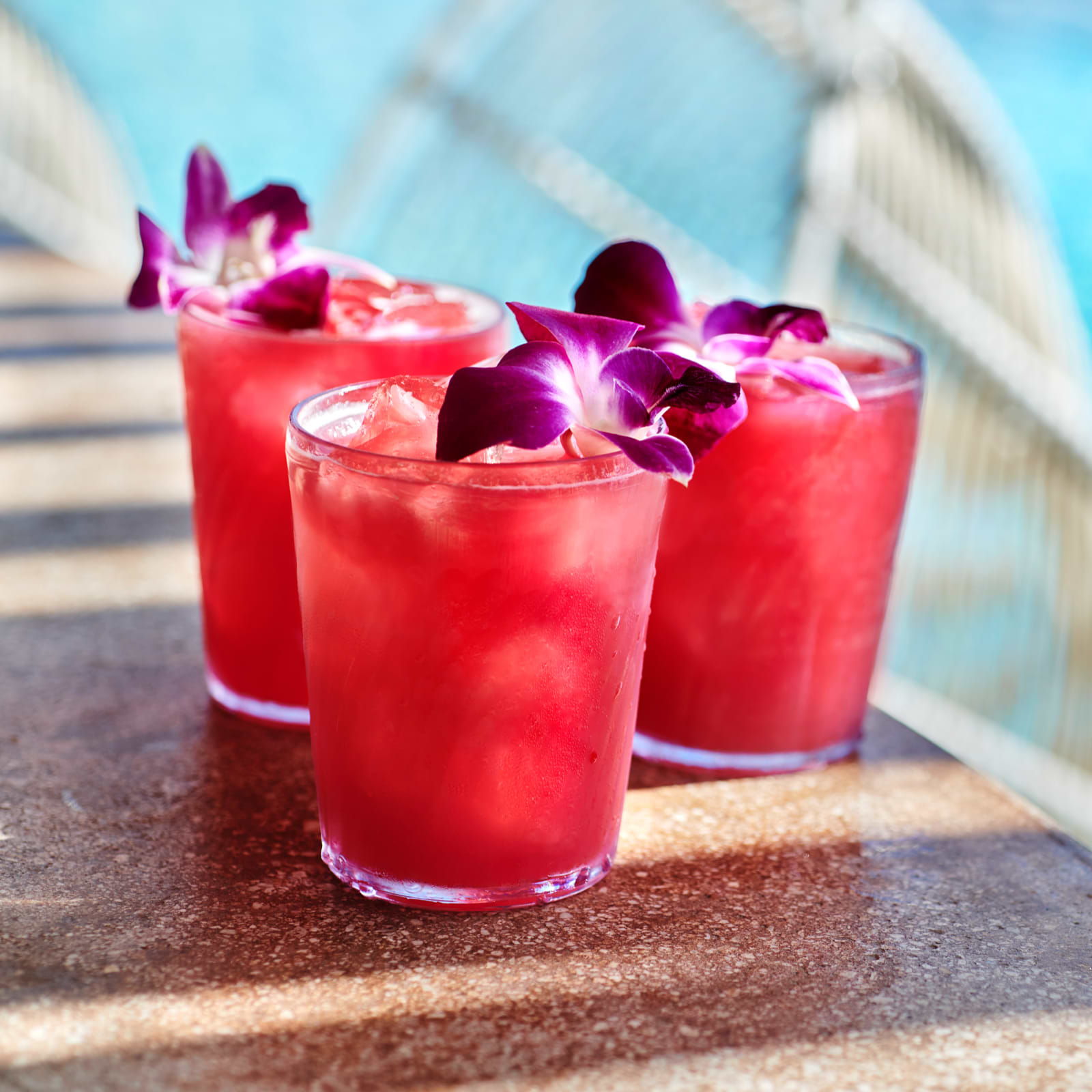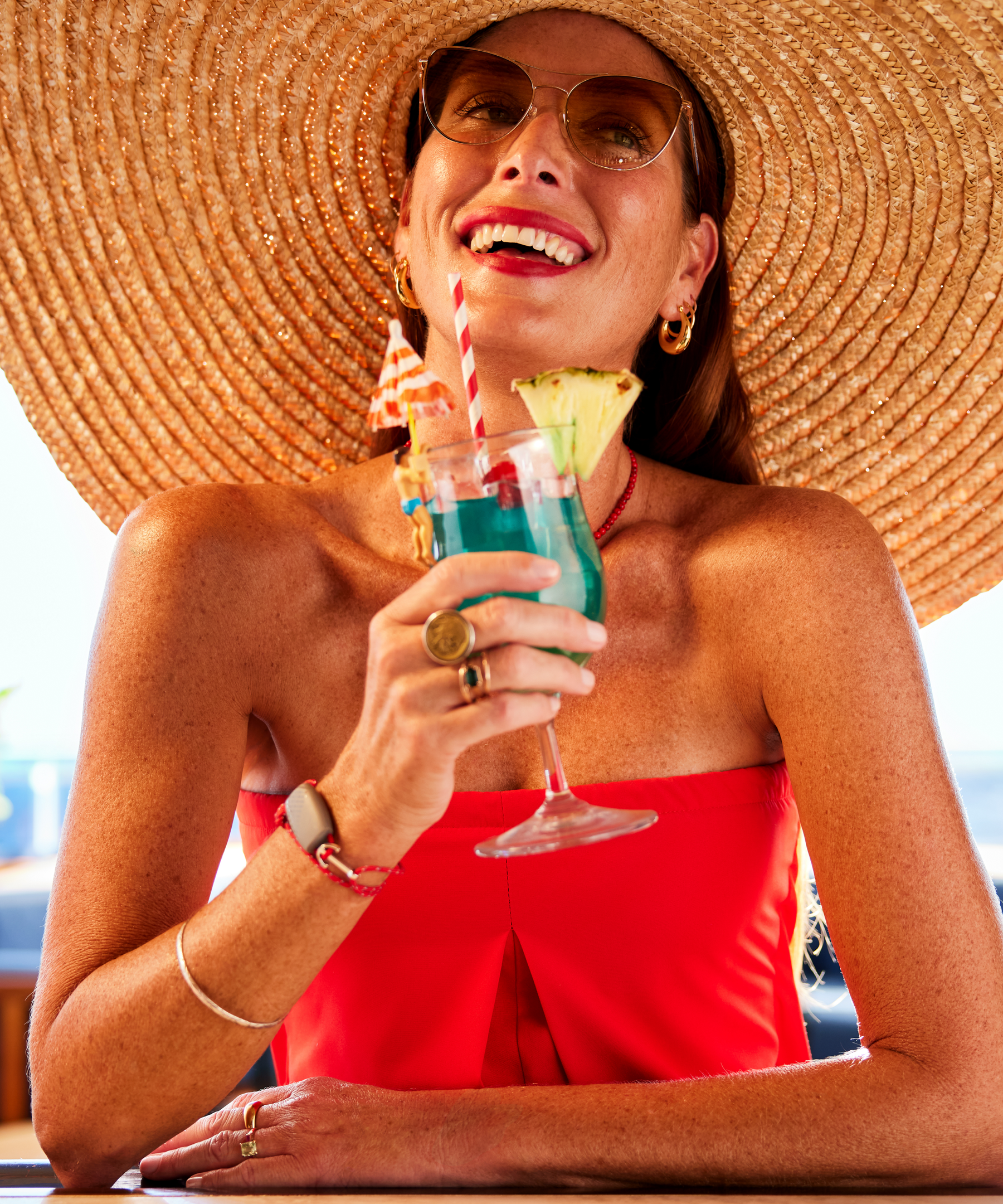 What's a Bar Tab, and how does it work?
Bar Tabs are prepurchased onboard credit set aside specifically to be spent on drinks — from alcohol bevs to fresh-pressed juices and elaborate coffee drinks. Available for purchase up until 24 hours before sailing, our Bar Tabs are sold in increments of $300 and can be used both on the ship and at The Beach Club at Bimini.

They are not available for purchase on the ship and are non-refundable once your voyage starts, so if you like fresh-pressed juices, barista-crafted specialty coffees, phenomenal mocktails, spirited drinks, and alcoholic bevvies, make sure to add a Bar Tab to your booking. Bottoms up!
Apart from helping you stick to your budget, we'll give you an additional $50 on onboard credit to be spent on premium drinks whenever you add a Bar Tab to your booking. Go ahead, and reward yourself for your fabulous preplanning skills with a few extra drinks. Terms and Conditions apply
No. We offer fair prices across the ship and have already included all essential drinks and tips in our voyage fares. This way, you don't have to deal with trying to calculate how many drinks you need to have per day to see "value" in a package, unreasonable rules like requiring everyone in a cabin to purchase a drink package (and ending up subsidizing the drinking habits of fellow Sailors), or paying for brands you don't even like.
Can I use it to buy drinks for other people?
Of course! Your Bar Tab covers any premium drink — whether it's for you, your cabin mate, or someone you just befriended on board. Different than traditional packages, we don't require every Sailor within a cabin to purchase a Bar Tab, so you can feel free to not get one or use yours however you like.
How can I start my bar tab?
Simply head over to the My Account section and you'll be able to lock it in.
Fancy some bubbles?
We love finding reasons to celebrate. And from our partnership with Möet Chandon Impérial®, our curated champagne lounge, and one-of-a-kind champagne tables, you can see that we take our champagne pretty seriously.
But when it comes to making toasts with a nice bottle of sparkly, we adhere to one simple rule: champs is best served anywhere, anytime.
SHAKE. POP. FIZZZZ
Save water. Drink champagne.
Shake for Champagne™ whenever you feel like raising a glass, and enjoy effortless sips of bubbly with our on-demand bottle service. Just open up the Virgin Voyages App and give your phone a shake to see a secret button appear. Tap it, and a bottle of Möet Chandon Impérial® will be delivered to you, so you can drink in the moment with a great sparkly wine no matter where you are on board.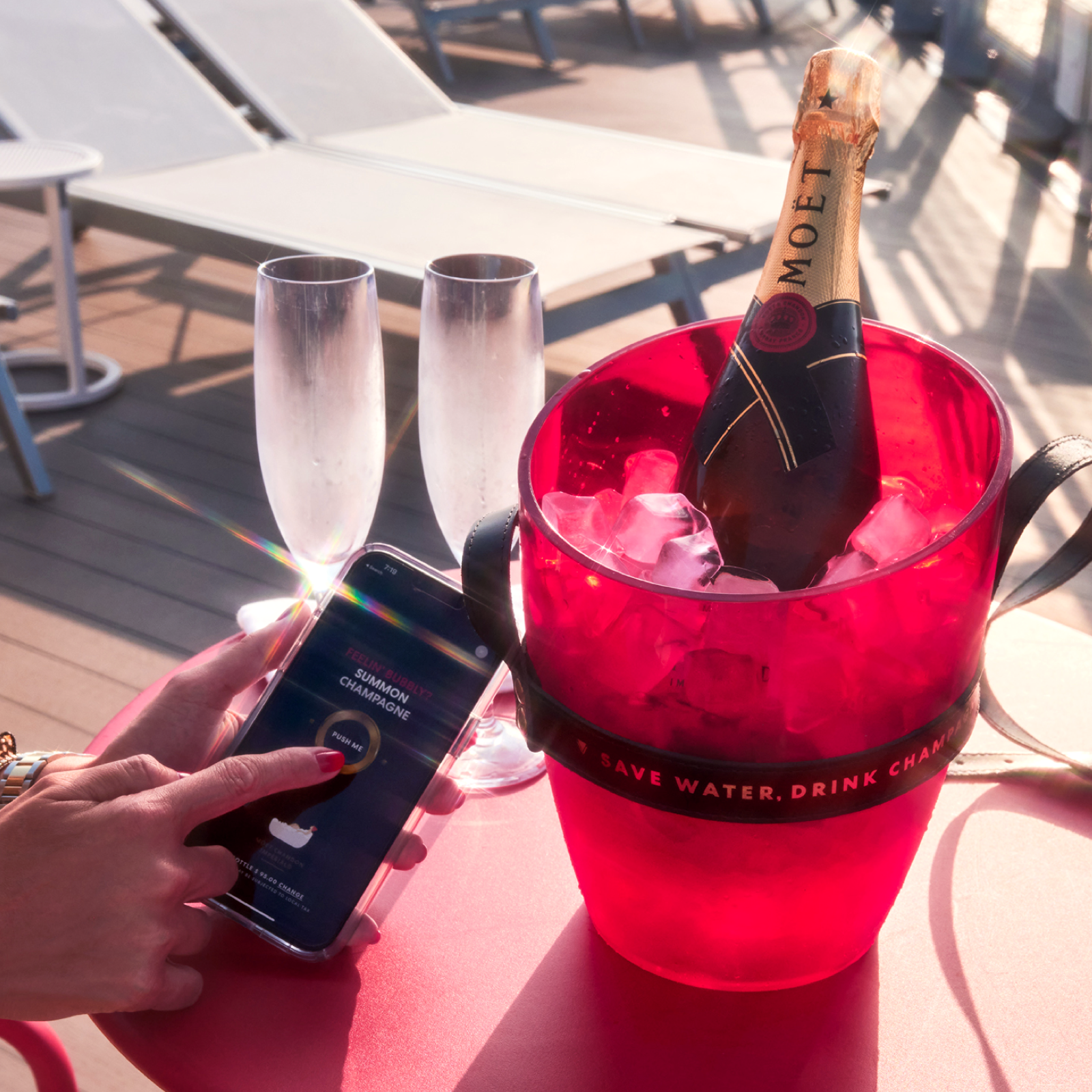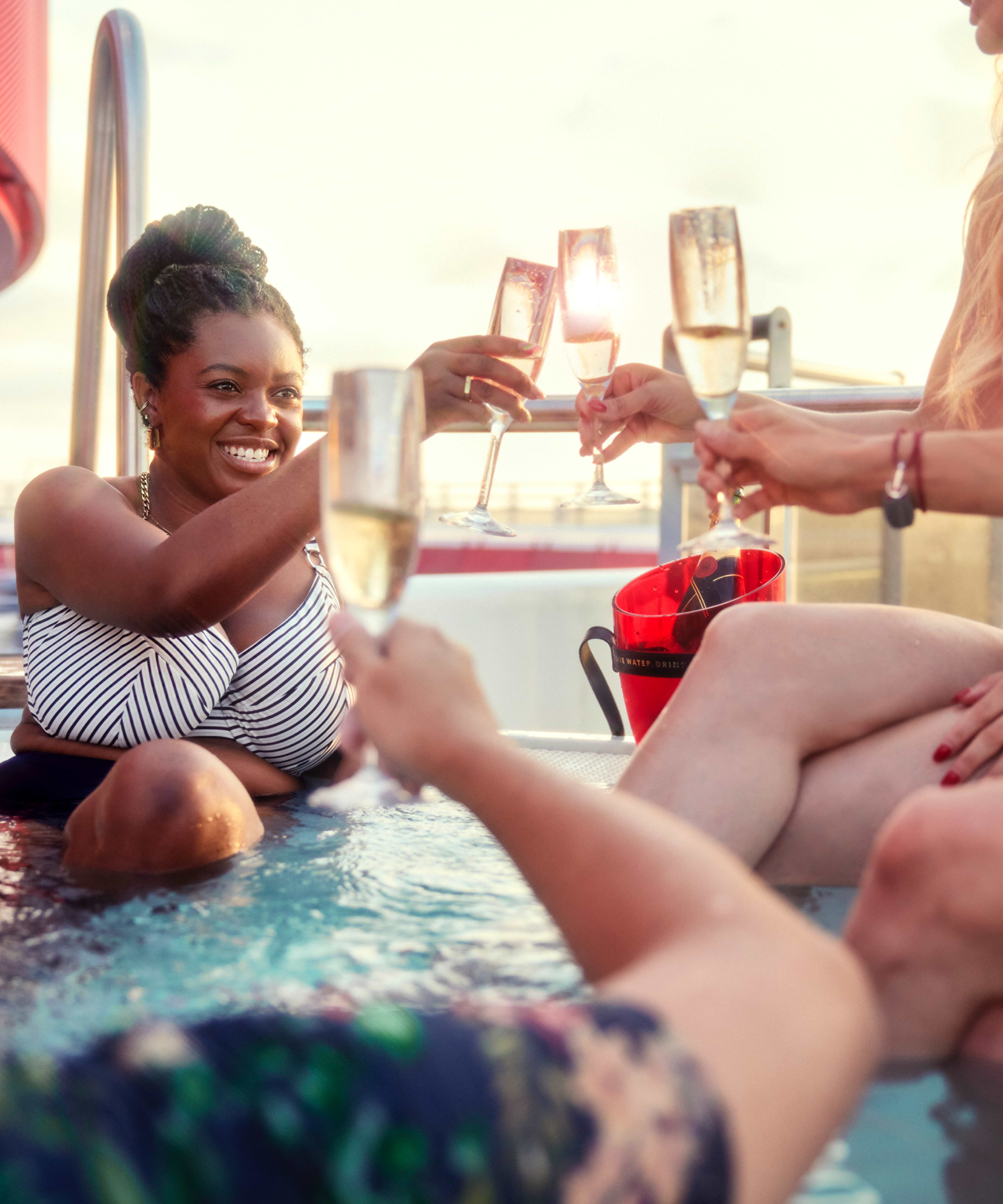 Be the first to get our exclusive deals + onboard happenings
Oops, something went wrong. Please try again or visit our Contact Us page. You can also:
Check you've typed your email address correctly.
Make sure you've checked the signup box.
Success!
You've successfully signed up for our email list... You're in for some treats.