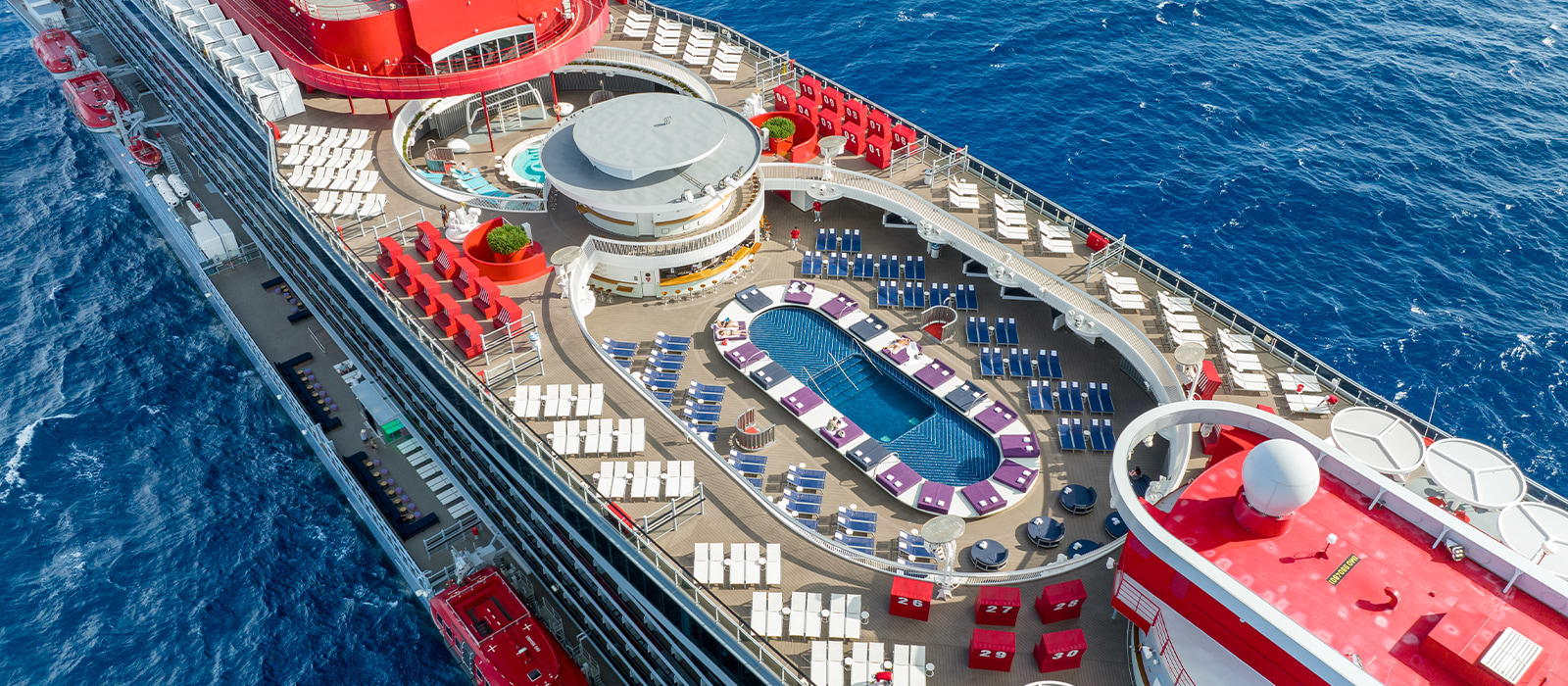 Accessibility
Pick up where you left off…
Your vacation awaits — don't let these voyages sail away.
Pre Voyage
Virgin Voyages Crew will make every effort to ensure that any requests, additional needs, and services are available before and during your voyage, but we do need adequate time to prepare for your arrival. It is essential that we be notified of any special medical, physical, or other requirement you may have as soon as possible, including whether you intend to bring a scooter or service dog with you. If advance notice is not given, while Virgin Voyages will do its best to accommodate, we may not be able to provide you with what you need.


The more information that we have concerning any special requirement you may have, the more prepared we are to meet your needs during your voyage. What works well for others may not meet your requirements. We will work with you to try to meet all your reasonable needs for your voyage, but due to the nature of travel on a passenger ship,
Please make every effort to contact us at least 45 days in advance of your voyage date.


In limited situations (either on board or ashore), we may find it necessary to ask you to make alternative travel arrangements, such as if a Sailor is unable to satisfy certain specified safety criteria, even when provided with appropriate auxiliary aid and services. We do not provide one-on-one personal assistance, therefore, Sailors who are unable to care for their basic needs (e.g., dressing, eating, and attending safety drills) MUST have a capable traveling companion/aide.

Onboard
Once you have boarded, you will be met by our crew who will be familiar with the information that you or your First Mate conveyed to Virgin Voyages. Crew will be available throughout your voyage to see to your needs via Sailor Services.

Frequently Asked Questions
Are there cabins for Sailors with disabilities or requiring the use of mobility devices?
Yes, we have accessible cabins available. Please book early and specify all of your required accommodations to our Sailor Services Crew or your First Mate (travel professional).
Are there wheelchair-accessible cabins?
Yes, we have cabins that can accommodate wheelchairs. Please bring your own preferred wheelchair, if needed, and be sure to book early to guarantee the cabin of your choice. Sailors who are bringing a wheelchair or scooter should book a Fully Accessible Cabin.
Can I bring my mobility scooter on board?
Yes, Sailors will need to notify our Sailor Services Crew at the time of booking that they'll be bringing their mobility scooters on board and will need to book an accessible cabin. Please note that scooters must be stored in the cabin when not in use, so sailors wishing to travel with their scooter should book Fully Accessible Cabins. Scooters powered by lithium-ion batteries will not be permitted onboard.
I need to bring oxygen on board. What are the procedures?
Sailors are permitted to bring oxygen cylinders and equipment on board within the following guidelines:

Sailors must make independent arrangements for the rental, delivery, and return of any oxygen cylinders and related medical equipment. Only 2 cylinders per cabin may be personally hand carried aboard by Sailors. All other quantities must be delivered. Stevedores at the port terminal are unable to coordinate the transfer of oxygen cylinders.

Due to safety concerns and storage limitations, liquid oxygen or large cylinder systems (greater than 680 liters or E / M-24 size) are not permitted, and the types and quantities of oxygen cylinders allowed on board may be limited.

Sailors bringing more than one cylinder must make their own arrangements for transportation to the cruise terminal.

To coordinate an oxygen rental, you can reach out to Scootaround at 888-441-7575.
Are you able to accommodate my dietary requests and/or food allergies?
Our expansive food and beverage offerings should be able to accommodate most dietary needs and requests, but be sure to ask our Sailor Services Crew before you sail regarding any specific requests or allergy concerns. Please note, we are NOT an allergen-free kitchen and do not offer Halal or Kosher Dining options.
What services are available for Sailors who are deaf or hard of hearing? Will you provide a TDD kit?
Yes, we have TDD kits available to accommodate those who are deaf or hard of hearing. Sailors may also message Crew via their smartphone through the Virgin Voyages App or by using their in-cabin tablet. Please contact our Sailor Services Crew for specific requests and accommodations.
Am I allowed to bring my service animal on my voyage?
Yes, your service dog is permitted on board. Service dogs are defined as dogs that are individually trained to do work or perform tasks for the benefit of an individual with a disability, such as guiding people who are blind, alerting people who are deaf, pulling wheelchairs, etc. The task(s) performed by the dog must be directly related to the person's disability. Dogs whose sole function is to provide comfort or emotional support do not qualify as service animals and will not be welcomed onboard.
While in public areas, service dogs must be on a leash, harness, or other restraining device. Due to health regulations, service dogs are not permitted in pools, whirlpools, or spas. Care and supervision of the service dog is the sole responsibility of the owner. Our ships will not provide food or care for the dog but will provide designated service animal relief stations onboard that can be set up on Deck 7. Service dogs may not be left unattended in the cabin.
Virgin Voyages reserves the right to remove or exclude a service animal if it is out of control and its handler does not take effective action to control it, it is not housebroken, it poses a direct threat to the health or safety of others, or it is disruptive while on board. Damage to cabins or our ship caused by a service dog will be charged to the handler/occupant's account.
For more information on service dogs in the United States, we invite you to visit the
U.S. Department of Justice Service Animal FAQs
. To assist you with any additional questions you may have, please email specialservices@virginvoyages.com.