Virgin Voyages' guide to Palma de Mallorca
Feel the bliss only a secluded Balearic island can offer, biking through lovely villages or visiting a family-owned winery.
PALMA DE MALLORCA
The Palma de Mallorca mindset
Hidden coves, hilltop villages and limestone mountains make the island of Mallorca an irresistible stop in the Mediterranean. Palma de Mallorca (Palma for short) rose from instability — switching between Roman, Byzantine, and Moor rule — and blossomed into an oasis. Today, expats and entrepreneurs populate Palma, living la vida loca with the highest standard of living in Spain.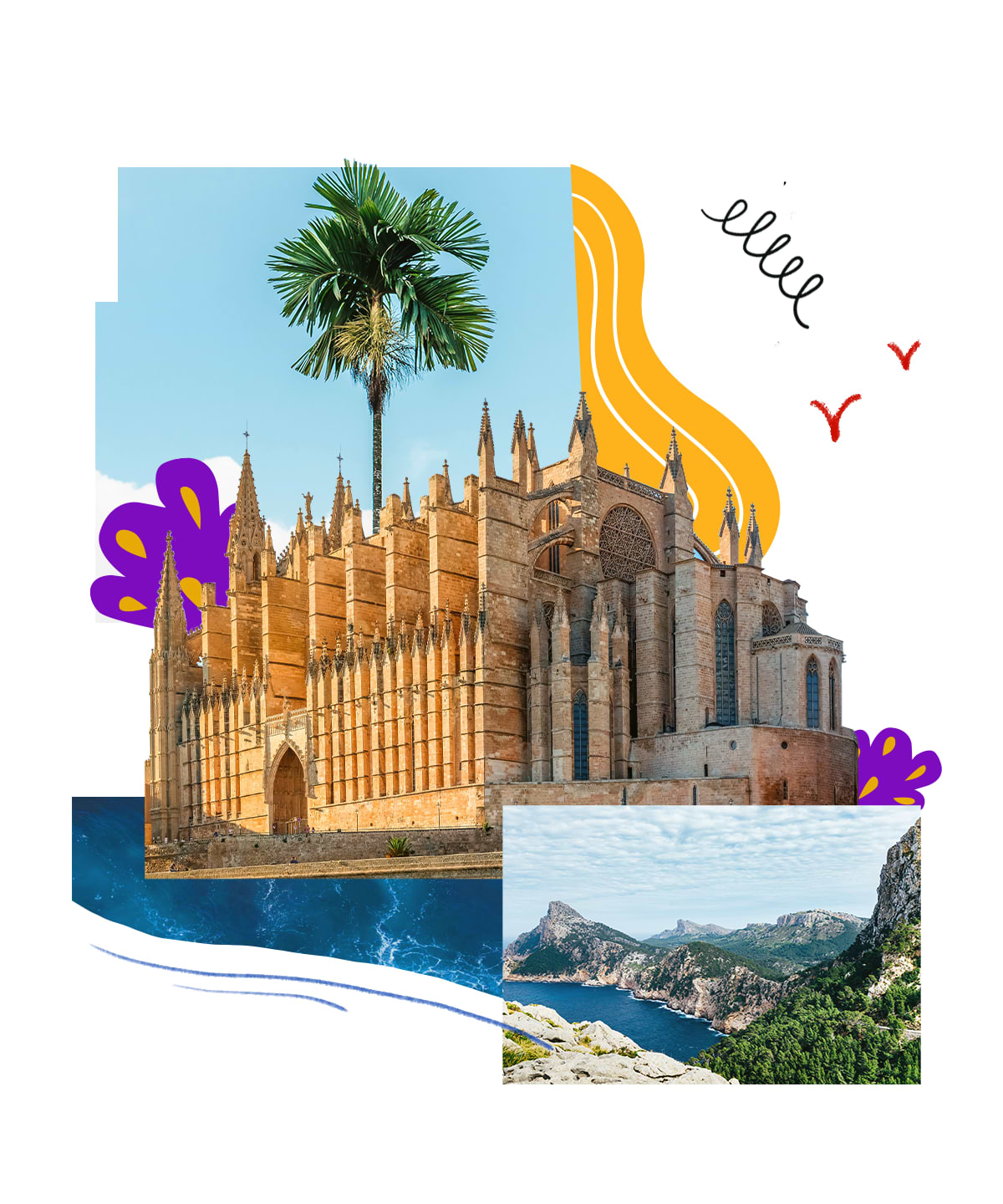 Palma's winding streets lead you to Gothic churches and scenic squares. Its central cathedral, the Cathedral of Santa Maria of Palma (nicknamed La Seu) is the must-see landmark. The main drag, Passeig del Born, gives way to side streets with shops and art galleries while the nearby ex-fisherman village Santa Catalina is the city's foodie quarter with up-and-coming bars and cute cafes. To get a full 360-degree view of Palma, visit Bellver Castle, one of Europe's only circular castles, or gaze out from one of the city's many rooftop bars.
Shore Excursions
The limestone coves and orange groves
Ode to Miró at La Residencia
A scenic drive through Valldemossa brings you to the town of Deià, a historic second home to writers, actors, and musicians. Walking the narrow streets, you'll follow your guide to the 16th-century buildings of La Residencia, a luxury Belmond resort. The artist Joan Miró made a home on Palma, and La Residencia has over 30 of his artworks on display. View the art and sit for a Miró-inspired tea service of fresh scones, delicate pastries, and savory treats served on the Café Miró terrace.

Tastes & Toasts of Mallorca
Passing through maritime masts, a labyrinth of grand mansions, and galleries filled with magnificent artwork, you'll make your way to a charming inland empire that's been producing wine since 1711. With vines for veins, 10 generations of the Ribas family have mastered the art of wine production and will share their knowledge with you on a journey from the soil to the glass. On the estate, a wine pairing will follow with a selection of appetizers and artisanal olive oil produced on the grounds.

A Sailboat in the Sunlight
Sail the azure waters of the Bay of Palma on a sailboat from the Club Nàutic S'Arenal. Like so many of the glittering yachts that flock to the Balearics, your boat will allow you to sightsee in style, then jump in for swimming and snorkeling. Recover from the sun and relax with an included lunch on board as you sail back into Palma.

More Shore Things for your wishlist...
We have even more in our curated catalog.
The past is always present
The Porto Pí lighthouse was built in 1300 — the third oldest in the world.
The turquoise blue waters, green-clad shutters and orange-spotted trees reflect Mallorca's vivid energy. It's not the same wild energy as its Balearic neighbor Ibiza — it's different. It's an energy that breathes life back into your soul after hiking through mountains, strolling through historic streets and diving into the Mediterranean deep. Palma continues to grow and thrive as the ancient capital of the Kingdom of Mallorca and the modern capital of the Balearic Islands. After leaving Palma's port, you'll be dreaming up creative ways on how to make your way back to Mallorca.


***Please be aware that all Sailors may be required to show proof of vaccination (a photocopy is acceptable) in Palma de Mallorca, and a photo ID may also be required to return to the ship. Sailors should also bring masks with them as they may be required in some establishments.
Set sail the Virgin way and find a new approach to cruise vacations. Select this sensational itinerary and let's sail.
Behind the velvet rope and into your inbox
Oops, something went wrong. Please try again or visit our Contact Us page. You can also:
Check you've typed your email address correctly.
Make sure you've checked the signup box.
Success!
You've successfully signed up for our email list... You're in for some treats.